Great Lakes Fresh Market U.P.
Recipes
https://www.greatlakesfreshmarket.com/Recipes/Detail/3749/Irish_Soda_Bread_with_Raisins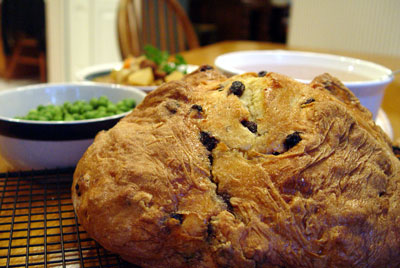 Irish Soda Bread with Raisins
Best when baked and served the same day
Yield: 1 loaf or cake
Ingredients
4-1/2
cups

all-purpose flour

4
teaspoons

baking powder

1/2
teaspoon

baking soda

1
teaspoon

salt

3
tablespoons

granulated sugar

1
teaspoon

caraway seeds

1
cup

dark seedless raisins**

2
cups

buttermilk*

butter

sugar
Directions:
Heat oven to 350 F. Grease a large cast-iron skillet or baking sheet.

In a large bowl, mix 4 cups flour with the baking powder, baking soda, salt, sugar and caraway seeds. Add raisins**, making sure they are separated. Add buttermilk* to bowl and stir with a wooden spoon until mixture forms a dough.

Sprinkle about 1/4 cup of remaining flour on a board. Turn out dough and knead lightly for about 5 minutes, working in the flour from the board and forming dough into a smooth, round loaf about 8-inches in diameter. Press loaf evenly into pan or on baking sheet and cut a cross 1/2-inch deep in the top.

Bake 1 hour and 15 minutes or until loaf sounds hollow when tapped on the bottom. Put loaf on wire rack, rub top with butter and sprinkle with sugar.
Photo and food styling by Webstop

*No buttermilk? Substitute 2 tablespoons lemon juice and enough milk to make 2 cups.

**To separate raisins: Place raisins in a small plastic bag or container with a lid. Add about 1 Tablespoon flour. Close and shake to coat. This will prevent raisins from sticking together or sinking to the bottom of the batter.
Please note that some ingredients and brands may not be available in every store.
Great Lakes Fresh Market U.P.
Recipes
https://www.greatlakesfreshmarket.com/Recipes/Detail/3749/