Great Lakes Fresh Market U.P.
Recipes
https://www.greatlakesfreshmarket.com/Recipes/Detail/6089/Peaches_and_Cream_Pops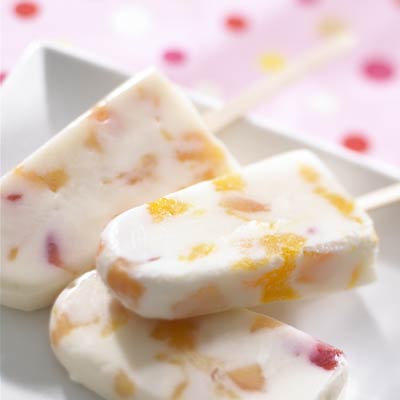 Peaches and Cream Pops
Diabetic Friendly
Yield: 4 servings
Ingredients
1/2
cup

peeled, chopped peaches (1 to 2 peaches)

1/3
cup

peeled, pureed peaches (1 peach)

2/3
cup

vanilla yogurt

1
teaspoon

Honey, if desired
Nutrition Facts
Yield: 4 servings
Approximate Nutrient Content per serving:
Calories:
46.8
Calories From Fat:
0
Total Fat:
.1g
Saturated Fat:
0g
Cholesterol:
0mg
Sodium:
13.3mg
Total Carbohydrates:
11.2g
Dietary Fiber:
1.5g
Sugars:
2.6g
Protein:
1.3g
Light nonfat vanilla yogurt and 1 teaspoon of honey were used when calculating nutritional data.
Directions:
Lightly swirl all ingredients together in a small bowl. Spoon into 4 popsicle molds and insert handle. Freeze for at least 4 hours.
*For extra sweet pops, add 1 to 2 tablespoons of honey to yogurt before swirling.

Courtesy of California Tree Fruit Agreement
Please note that some ingredients and brands may not be available in every store.
Great Lakes Fresh Market U.P. Recipes
https://www.greatlakesfreshmarket.com/Recipes/Detail/6089/